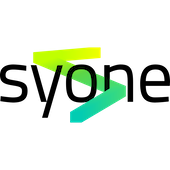 Sectors:
Public Administration
Environment & Sustainability
Autarchies
Banking & Asset Management
Science (bio-medical technology, medicine)
Education
Energy & Utilities
Engineering & Construction
Entertainment & Media
Industry & Production
Logistics & Transportation
Ores & Metal
Retail & Consumer
Health
Automotive Sector & Mobility
Insurance
Technology
Telecommunications
Tourism & Leisure
Solutions:
Cloud
Couchbase
Desenvolvimento de Software
Elastic
Embarcadero
Gestão de Dados
IT Infrastructure Management
Machine Learning e Inteligência Artificial
Microsoft Azure
Red Hat
SAP
SUSE
Digital Transformation
who we are
From Portugal to the world, Syone works with leading companies in Telco, Banking & Insurance, Government, Utilities, Industry, Retail and Hospitality by implementing mission-critical projects and helping organisations to increase agility and to drive Digital Transformation.
Recognised as a Competence Center for Open Source technologies such as Red Hat, SUSE, Couchbase, Elastic and also Microsoft and SAP, we have worked with more than 500 clients and in more than 15 countries.
Syone develops projects through its Software Factory, Outsourcing and Nearshore teams, presenting solutions in the following key areas:
Cloud
Data Management
Digital Transformation
Machine Learning & AI
IT Infrastructure
Software Development
SYONE, DEVELOPING SOFTWARE SINCE 1999.