2019 - 06 - 28
'Open Source and Digital Transformation'
ESOP, in partnership with AMA and TicApp, is organizing a workshops cycle entitled 'Open Source & Digital Transformation'.
This initiative aims the promotion of Open Source Software (OSS) in Portuguese Public Administration, through the presentation of case studies (themselves, successful cases of OSS solutions applied in the public sector). In a second phase, the participants have the opportunity to interact with the different solutions presented under the theme of that workshop. The themes cover several areas of greatest importance for Public Administration.
The first session was dedicated to the 'UX / UI & Digital Experience Platforms', took place on October 22th. The second, was dedicated to 'Big Data Analytics & Open Data', happened on February 20.
In this cycle we are going to debate the following thematic areas:
Digital Transformation: Big Data & Analytics
DevOps & Cloud;
Share and Reuse;
Digital Transformation: Design Thinking;
Digital Transformation: Open Data;
Cloud: SaaS & PaaS;
Best Practices in public procurement;
Open Standards.
Although this workshops cycle is developed primarily for the public sector, it applies to the most varied domains and is therefore open to all interested. The participation is free but need registration, disclosed in a timely manner.
The next workshop will be announce soon.
Image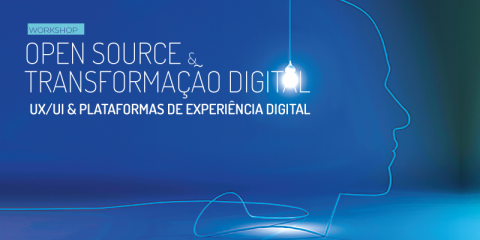 Temas da 1ª Serie (2013-2015)
Organizadas pela AMA - Agência para a Modernização Administrativa com o apoio da ESOP - Associação de Empresas de Software Open Source Portuguesas, Ciclo de Sessões de Sensibilização dedicadas à apresentação de soluções de Software Open Source para problemas comuns da Administração Pública:
1ª Sessão: Desktop e Ferramentas de Produvidade
Data: 6 de Junho das 9h00 às 12h30
2ª Sessão: E-mail e Groupware (LDAP, Fileshare, etc.)
Data: 6a feira, dia 6 de setembro, das 9h00 às 13h00
3ªSessao: Portais e Desenvolvimento de Websites
Data: 25 de Outubro de 2013, das 09h00 às 13h00
4ªSessão: Gestão Documental e gestão de processos
Data: 13 de Dezembro de 2013, entre as 9h00 e as 12h30
5ªSessão: Helpdesk e Ticketing
Data: Sexta-feira, dia 14 de Fevereiro de 2014, das 9h00 às 13h00
6ªSessão: Sistemas de Informação Geográfca
Data: Sexta-feira, dia 28 de Março de 2014, das 9h00 às 12h30
7ªSessão: Base de Dados e Sistemas de Gestão Empresarial (ERP)
Data: sexta-feira, dia 16 de maio de 2014, das 14h00 às 18h00
8ªsessão: Business Intelligence e CRM
Data: Sexta-feira, dia 18 de Julho de 2014, das 09h00 às 12h30
9ªsessão: Comunicações Unificadas
Data: Sexta-feira, dia 3 de Outubro de 2014, das 09h00 às 12h30
10ªsessão: Ferramentas de Desenvolvimento de Software Open Source
Data: Sexta-feira, dia 23 de Janeiro de 2015, das 09h00 às 12h30