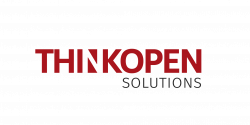 Sectors:
Public Administration
Environment & Sustainability
Autarchies
Banking & Asset Management
Science (bio-medical technology, medicine)
Education
Energy & Utilities
Engineering & Construction
Entertainment & Media
Industry & Production
Logistics & Transportation
Ores & Metal
Retail & Consumer
Health
Automotive Sector & Mobility
Insurance
Technology
Telecommunications
Tourism & Leisure
ThinkOpen Solutions was established in 2010 with the purpose of being the first Odoo oficial partner in Portugal. ThinkOpen specializes in Odoo implementations and offers complete end-to-end services and projects. Odoo is the Open Source Management Software more installed worldwide and is still growing steadily. It now has more than 20.000 modules and apps, which allow the agile design of complete and customized solutions, assuring quick efficiency gains and ROI..
We, at ThinkOpen, help companies and organizations in their digital transformation processes with Odoo Cloud solutions, designed and adapted to each case and context..
Gain with our experience... contact us to discover all the advantages Odoo can offer.